1955-1990 – life before Audax: I was born on 30 December 1955, have been riding bikes of various sorts and for various reasons since since about 1960 when I had my first toddler bike with stabilisers. Once I could ride on my own or with friends, probably aged about 8-9, we'd take off on great voyages of discovery around the extensive Poulter's Park onto which backed our house in Morden, Surrey, then along the River Wandle even as far as Carshalton, perhaps as much 2-3 miles away. I then went to Sutton Grammar School for Boys aged 11, and after a couple of years my dad invested in buying me my first full-sized bike so I could ride the two or three miles to/from school (clearly this would soon pay for itself through the saving on bus fares).
I went to university in Cardiff and acquired a Peugeot bike to get around and once graduated stayed to live and work in Cardiff. In my early twenties I continued to ride a bike for utility purposes and to ride to and from work, but at that age had little idea of developing and maintaining any fitness – we all thought we were immortal at that age. In 1983 I started work for the Employment Service and would sometimes ride the 7-8 miles to and from my first office in Barry, then in 1984 started regularly riding 11 miles to and from my next office in Pontypridd.
Aged 28 now, I was becoming more aware of the need to keep fit, but it was running that I first turned to, especially after three of us at work dared ourselves into entering the Civil Service, Post & Telecoms half-marathon in Windsor Great Park in aid of the RNLI. I made the respectable time of 1h35m (would have been good to have got under 1h30m). It may not come as much surprise that I tended mostly to long-distance running, regularly training by running 10 miles or so with my dog Hannibal on paths though Cardiff's 'green lung' of parkland, woods and other open space extending along the River Taff from the Castle in the city centre to Tongwynlais to the north-west.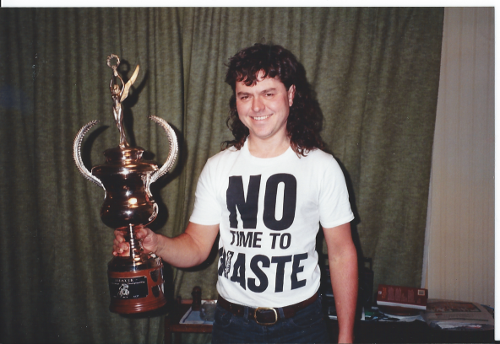 In the mid-eighties I ran another half marathon in Cardiff, then the Cardiff Marathon in 3h44m. I then entered the 1988 London Marathon, aiming to go under 3h30m. I was certainly prepared for it and on the day was on course until after about 15-16 miles I started to develop some sort of injury. St. John's ambulance strapped up my leg for me and I cautiously walked a mile or so, then started to pick up to a bit of a jog. After about 23 miles my injury was worsening, but by now I was in central London near the finish, so staggered and limped down the Mall and past Buckingham Palace, finally hopping across Westminster Bridge and collapsing immediately after the finish for a time of 4h07m.
I was diagnosed with a 'shin-splints' injury, a typical result of 'pounding the pavements'. For a week I couldn't walk without the aid of a stick. The great revelation however was that I had no problem getting on and riding a bike….
I didn't ever run again for fitness, but started to cycle more. As well as utility riding and commuting, I would set off at weekend on trips of 40 miles or so around the Vale of Glamorgan. In 1989 a notice at work invited staff to join an End-to-End ride for charity, based on a fairly circuitous CTC route for a total of 1100 miles (including for myself an extra 50 miles or so extension to and from Cardiff to celebrate my then-girlfriend Diane's birthday). This was very ably organised by Rob Wormald from Sheffield. Seven of us rode, with a support van, riding from 70 and up to 150 miles a day over 11 days. Along the way there was much talk of what was then to me the somewhat mysterious world of audax long-distance cycling.
In 1990 I was asked by Diane to join a group from BT (for whom she worked) on a London to Brussels 'Bikeathon' for the NSPCC. On this, one Timm Frenzell among others talked not only of Audax but also the 1200km 'Paris-Brest-Paris'. I thought to myself that I could certainly ride that sort of distance having ridden the End-to-End, but had little idea of the time-limits involved and put it to the back of my mind. That year I also rode my first 'Brevet Populaire', the 100km Brecon Beacons Brevet, but had yet to join audax.