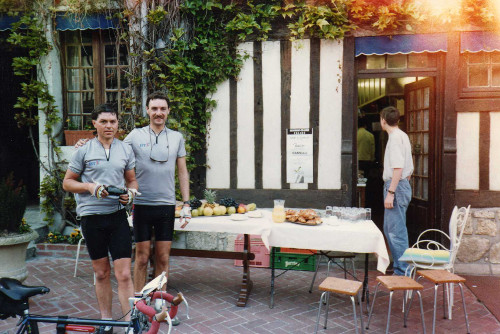 1991: Early this year there was more talk in our cycling group of the PBP due to take place that year. I investigated what was required to qualify for and ride this. In March I rode the 125 miles from Cardiff to Gloucester and back in just over eight hours including one ten minute stop for food (this was to become the basis of the Cardiff Byways 'Dr Foster's Winter Warmer' 200km audax event).
Having found I could ride 200km within the time limit, I joined AUK and realised there was just one 200km event I could ride within the PBP qualifying period, the '14th Dorset Coast' on 7 April, which I entered and completed, followed by 'Tour of the Welsh Borders' 300 on 20 April, Cheltenam 300 on 27 April, 'Brevet Cymru' 400 on 4 May, 'Mid-Wales Desert' 200 on 18 May, then 'Bernie's Long Flat One' 600 on 15 June. In the space of just ten weeks I had gone straight from Audax virgin to 'Super Randonneur' (and ridden with several well-known AUK faces of the time). Can anyone beat this?
I'd qualified for and duly entered PBP. Did I have any idea what I was letting myself in for? If you're interested in the full answer to that, the I refer you to my account of 'Paris-Brest-Paris 1991' in Issue 49 of Arrivée (Summer 1995). By far the most memorable point of the ride occurred a few kilometres after Tinteniac on the outward leg where on slight climb I was caught by and first met the female British cyclist who has been described by Jim Churton among others as one of the most elegant and stylish cyclists they have seen. This of course was Anne Learmonth, who was later to become not only a wonderful cycling companion, but most important, the love of my life, partner, and for the last 5½ years, my beautiful wife. It wasn't long before I punctured and she rode on, but we later rode more together, at the finish exchanged addresses, and occasionally met at events over the next couple of years.