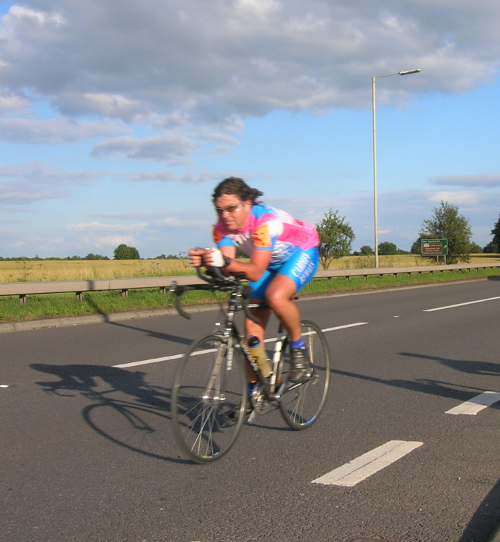 2006: I rode 21 200s, two 300s, two 400s, two 500s and two 600s to give me another two SRs and 78 points for Randonneur 5,000. I was a member of an Easter Arrow which rode 560km, but we were just pipped by the VC167 boys who notched up 564km! George Hanna, Judith Swallow, Ritchie Tout and myself did however win the Summer Arrow award – a fourteenth consecutive year in the AUK Hall of Fame. One of my 600s this year was the Mersey Roads 24, in which I rode 411 miles to make third counter after Paul Robinson (462 miles) and Mike Pain (440 miles) in the Cardiff Byways team that won the team prize to became RTTC national 24 hour team champions and so give us each a National Champion's medal.
Cardiff Byways were also given the AUK Organising Club award. I had started organising events for the club in 1993, first the 100km 'Trefil Travail' grimpeur, then the even more demanding and infamous 'British' 200, also a mega hilly event. Fearing I was getting a reputation for hard rides, I then devised the Transporter 200, which traced on the map appears to cover similar ground to the British, but actually has only two big climbs; the first takes riders over from the first pancake-flat (yes in Wales!) 50km through the coastal Wentloog and Caldicot Levels over to the Usk Valley, then the second watershed climb, the 'Devils Elbow' (which features on the British) connects the upper Usk to the head of the Cynon Valley – riders follow this to its confluence with the Taff Vale and on down to the finish. Soon I had devised several more events from Cardiff: Dr Foster's Summer Saunter and Winter Warmer, the Malmesbury Mash, Ferryside Fish Foray, Gower Getter and Monmouthshire Meander 200s, the Peacocks & Kites 300, Teifi Traveller 400 and Marches & Mersey Roads 600. Several of the 200s were based on routes which John Hayes and Jim Roberson had planned on the Cambrian Connections permanent grid when they were both points chasing and were looking for 'lines of least resistance'.
One Sunday in the summer of 2006 I rode a morning time trial and Anne was marshalling on the Swansea Wheelers' Road Race. We met later at the 'Ancient Briton' one of the finest ale houses in Wales (only 14 hand-pumps). Real Ale and cycling are two of my great loves (often the two seem to go together), but on this occasion I turned my attention to my greatest love of all – after being together but living apart for 13 years, in the garden of that fine establishment, I proposed to Anne that we should marry and live together. I'm sure you know that Anne accepted, and so 2007 was to be not only one of our biggest years in Audax, but certainly the biggest year of our lives together ….