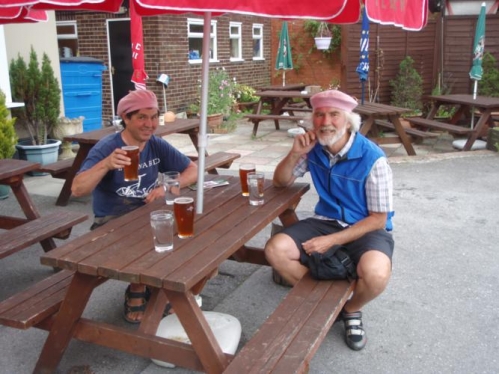 2007: I rode 17 200s, two 300s, three 400s, two 500s, three 600s and PBP 'cinqieme fois' to give me another three SRs and 86 points for Randonneur 5,000. I was also a member of the winning Easter (with Jim Churton and Judith Swallow) and Summer Arrow (with Andrew Dade, Andy McKay and Tony Pember) teams, giving me a fifteenth consecutive year in the AUK Hall of Fame.
But now for the really big stuff. Anne and I set our wedding day for 30 July at Llandudno Town Hall (her parents had lived near there in Penmachno and now in Llanrwst in the Conwy Valley). Earlier that year at the end of a walk above the Swansea Valley we noticed a house for sale with a commanding view of the valley. What's more we ended our walk a few hundred yards down the road at another fine ale house, the Butchers Arms in Alltwen. The house was perhaps slightly above our price range, but we had fallen in love with it, eventually had an offer accepted and in May were able to sell both our houses in Morriston and Cardiff and move in. The house had been named 'Rorke's Drift' after a Zulu War engagement involving as South Wales regiment. We didn't want that for ourselves and renamed the house 'Roc Trévezel' after the highest point in Brittany and of course not so far from the point where we had first met on PBP 1991.
Our wedding day 30 July turned out to be one of the few really fine days of a very average summer. The following day we set off on our honeymoon which was to consist of several components. We started with a cycling camping tour (of course), the first day to Newborough Warren which is close to Llanddwyn Island (Ynys Llanddwyn), the home of Saint Dwynwen, the Welsh patron saint of lovers. The next day we continued to Holyhead, caught a ferry to Dublin and train to Galway from where we spent two weeks touring the NW coast of Ireland from Connemara, and then onwards and into Northern Ireland, finishing wih a couple of days in Belfast, then train to Dublin, ferry back to Holyhead and train home. After three days we set off for France, where we spent the next part of our honeymoon with five other blokes – Andrew Dade, Jim Roberson, Tony Pember, Mike Pain and Peter Lee, all of Cardiff Byways – to ride PBP together (except the last 150km from Mortagne where the others went on and Anne & I were able to complete the event 'alone together'). You can't say I don't know how to show a girl a good time! Anne & I then set off to spend a few days recuperating at Nik Peregrine and Jennifer Goslin's gite in Brittany.