To break one's ankle walking to the pub, rather than merrily from it, is especially irritating.  To do so five weeks before Paris-Brest-Paris is more than annoying. 
Mind you, the year hadn't started all that well, with increasing pain in one knee eventually resulting in a DNF on one of Mark Rigby's 300s.  I found a new physio within hobbling distance of home, who turned out to have genius thumbs.  A poke here and a manipulation there and I was right enough to ride over 400k for an Easter Arrow.  

The rest of the qualifiers went reasonably well:  Some were my own events, including the Exeter-London 400 with an old friend, for whom it was the first time at that distance.  The cries of anguish as her saddle sores developed were unsettling.

Ian and Bridget Boon, helping at Dolgellau during the Welsh 600, offered me a bed the back of their van, perhaps not realising that I usually look that knackered during a long ride (or any ride).

So anyway, there I was, feeling confident, when I twisted (as I thought) my ankle rather painfully, and my companion suggested that a trip to Minor Injuries would be sensible.  The nurse looked cheerful when she announced – yes, you've broken it, and issued me with a big boot and crutches.  I was staying with PBP ancienne, Anne Learmonth.  I couldn't drive, so had to rely on her generosity to ferry me home.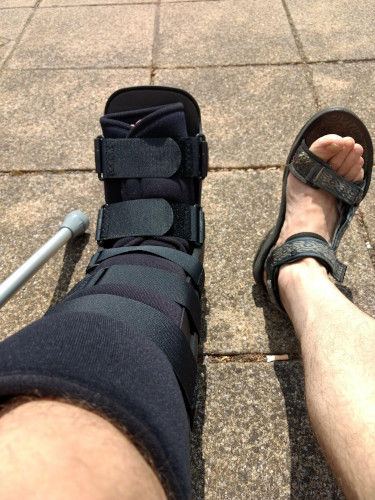 Some days later the consultant at the fracture clinic, peering at the x-ray, was of the opinion that it was so minor a fracture ("more like a bad sprain") that I could walk on it, and maybe even do a little gentle cycling.  

Back to Nigel the Physio.  He agreed to do what he could.  With a couple of weeks to go, I could cycle 30k without an unbearable amount of pain, so I decided to travel to Rambouillet, and see how far I'd get.  A gentle two-day ride across Normandy went without incident.  I was beginning to feel confident.

How far I could get turned out to be not much more than 400k – to Loudeac in fact.  Part of my downfall was pain caused by favouring the good leg (the one which had failed earlier in the year – see above); and there was a general lack of speed after five weeks off the bike.

Having decided that the easiest way back was to pedal gently over a couple of days, Ian, who was at Carhaix with Bridget, rang and insisted on giving me a lift.  I owe them both a debt of gratitude.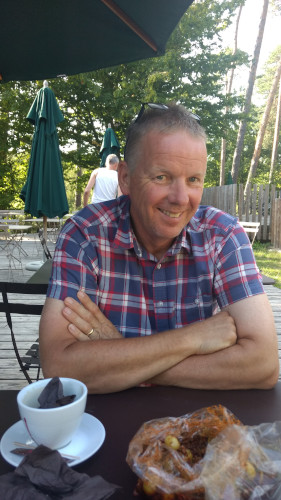 Back at Rambouillet, Richard Salisbury had also packed.  He had donated a kidney to his son at the beginning of the year, which left not a huge amount of time for recovery.  We had a beer together.


Drew Buck was at the finish, he hadn't managed to get round (at least I was in good company).  There were tales of accidents and DNFs circulating.  But Judith Swallow rode a steady pace and finished comfortably despite health issues of her own.  


Did I mention the new bike?  I ordered it, after much consultation, from Richard Hallett at the beginning of the year, a kind of retirement present to myself.  When I broke my ankle he turned to other projects, so that when I said I was going to ride, he had to rush to get it ready in time.  On the day of the ferry crossing he delivered it, shiny and new, checked final positioning and wrapped the bars before watching me ride up and down the road.  Then I was off.  

The bike performed faultlessly; shame about the rider.