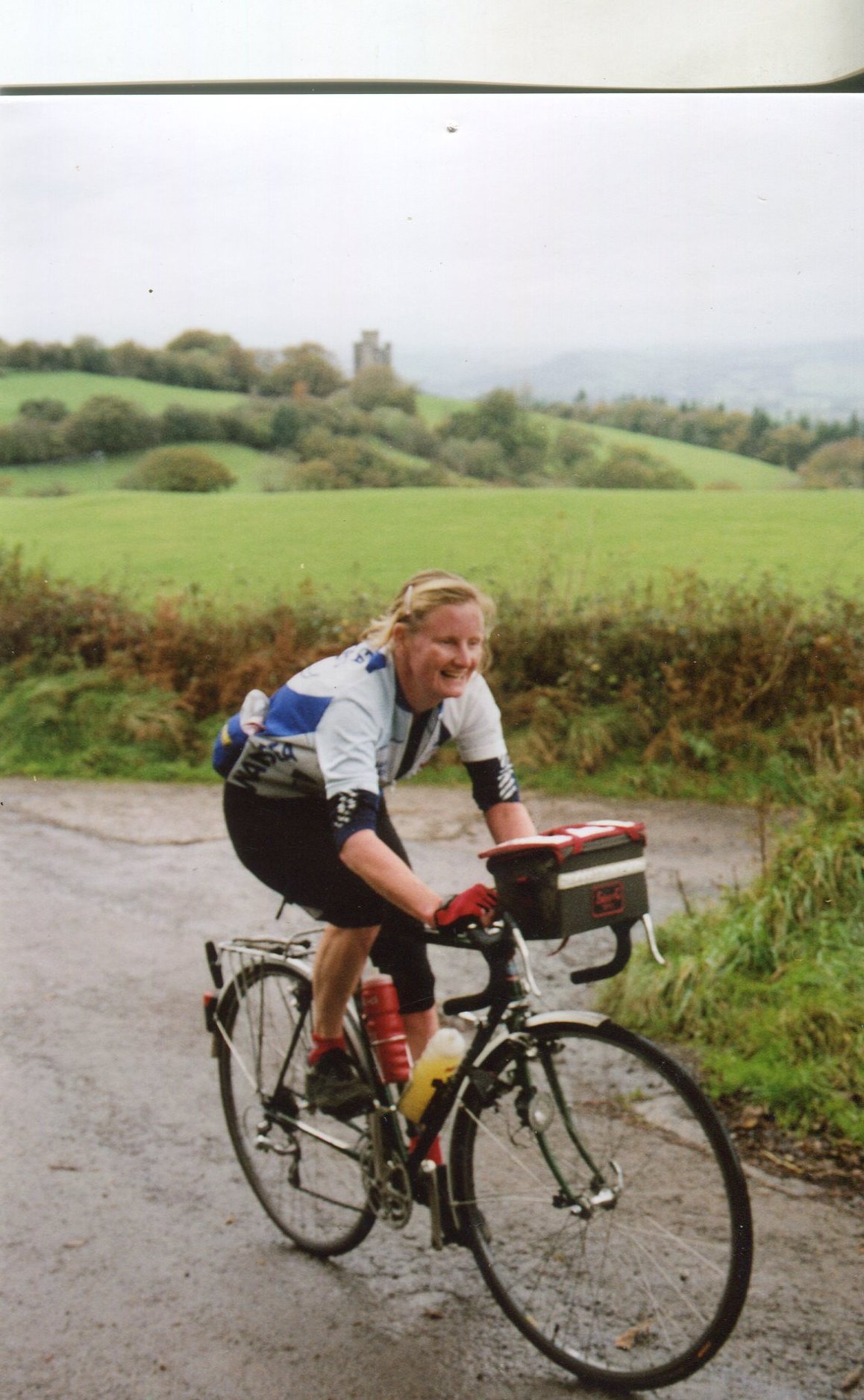 Words by Anne Learmonth

Shawn Shaw has bowed out of organising his classic Wessex Rides this year. A long and involved tussle in the high court of the AUK committee room has resulted in Shawn calling it a day. I can sympathise. I run a modest 100k grimpeur and find that the necessary risk assessment paperwork plus the yearly search for new information controls detracts from the fun.
Shawn and his years of hard work devising and executing the Wessex classics deserve a BIG vote of thanks. I would like to express, in this article, something of what a unique organiser of unique events Shawn has been. I have chatted to assorted Wessex anciens through the year and am confident that many share my sentiments.

I first met Shawn at the start of Paris Brest '91. It was the centenary year and the Prologue from the capital's centre out to the start was an optional extra. I was riding unaccompanied, unsupported and pretty much an audax novice. Shawn, Alan Linge and few others asked me along to Pizza Hut with them for a meal before the prologue. At the time I thought that Pizza Hut was a bit of a disappointing choice of Parisien dining. Looking back with experience of distance riding in France it was a useful first lesson: for a good carbohydrate and salad feed avoid French restaurants in favour of Italian or Chinese.

I came across the Wessex contingent again at various points through the Paris-Brest. Shawn's steady, self-contained riding style and quiet humour helped my own confidence.

A couple of years later I was thinking of furthering my audax career. Browsing the events calendar I saw Shawn's name alongside some interesting sounding rides: the Hardboiled 300, Porkers 400 and Brimstone 600. I sent entries off without appreciating that the Wessex super randonneur series were such epics. In '96 Shawn introduced the Crackpot 1000k to complete the set and ran it in '98 and 2000.

A Shawn Shaw route is more than just a route, it is quintessential audax and defines the spirit of long distance cycling: interesting and challenging scenery, memorable controls, a shared journey with like-minded people and numerous 'nice touches' in the organisation. All in all an haute cuisine feast of pedalling.

The Hardboiled 300 ran on, or close to, the Easter weekend, hence the egginess. The hardness was the tough grimpeur 100k across the folds of Dorset that came after the relatively straightforward first 200k. Hardboiled rolled out of Poole at two in the morning. A bash out on fast main roads with only the screams and hollers of the homeward bound night clubbers for company. The route swung North through the animal and cattle grid infested New forest. Hardboilers reached the gentle folds of Salisbury Plain by frosty dawn light.

Porkers was a hog of a 400 with a 2pm start. I once rode 100k to the start the same morning: oh to be young and foolish again! There were pigs to oink at at various places along the relentlessly rural route. The night section continued on lanes and careful navigation by head torch was essential. Shawn steered the route by the traditional Dorset and Devon signposts where crossroads are named on the post.

Brimstone 600 cleverly traced a butterfly onto the map of Wessex with daintily drawn wing shapes ensuring that the steepest climbs were included.

'Brimmy' was also available as a permanent whereby it metamorphosed into the Hellfire. My experience was more of a slow burn glow worm struggling to finish within the time limit. I have heard rumours that a fine band of 'dead 'ard' hard riders failed to finish having fallen asleep on a verge just beyond the Taunton Deane Services control.

Shawn's pièce de résistance was the Crackpot 1000. This time he had drawn a direct A to B route on his Wessex planning map, thought better of it and scribbled a zig-zag across such a dull idea. No peaceful butterfly but a cardiac monitor at crisis point. Seven audax altitude points with tortuous explorations of the Quantocks, Exmoor the Blackdown Hills, Salisbury Plain and the New Forest. I only remember lanes and perhaps some B roads with Exeter the only major conurbation.

Crackpot defeated me in '96 because I was on the edge of the time limit at the Somerset levels section, went off route, then Dave and I spied a real ale pub B&B. Oh! sweet temptation. We returned for a second crack at the 'pot in '98 made it and enjoyed it.

Mr Shaw's charm somehow worked us riders some superb controls in the darkest hours in many backs of beyond. There was the police house near Romsey where the police motorbike was parked up on the drive with lights on to guide us in. Mrs Police and Police juniors served tea and eats through the early hours. Then there were the elderly sisters in a Dorset village tea room. Service of tea and things on toast was slow, but there was never any rush to move on into the night. At Codford near Salisbury, a pub welcomed exhausted AUKs to sleep away the wee small hours on the skittle alley. Peter Luxton parked in his camper van at a remote spot on Exmoor and cooked up a variety of mushroom soups. Finally, the ascent to Drew Buck's heavenly Mendip cottage with the memorable upstairs bathroom with uncurtained french windows onto the garden.

All of Shawn's events finished at his house where his wife Jean provided hearty meat or veggie hotpots and home made cakes. The Shaw home would become littered with happy, dizzy, dozing AUKs. Some rides also departed from chez Shawn with pre-ride feeds and faff space available.
Riding the Wessex series demanded independence, self reliance, steady determination and a certain amount of audacious insanity. Hence I met some of my best biking friends on these rides. The camaraderie of a shared journey and one's own lucid memories of golden moments: an early May morning climbing through a bluebell wood rich with bird song, a crashing thunderstorm over Hardy's Monument. One might ride alone or with a few others but there was always the feel of a Bilbo Baggins quest to pass safely through the old and eerie Blackdowns and over bleak Salisbury Plain. The aura of ancient quiet over Hembury Fort. Passing Toller Porcorum and up the legendary Powerstock Hill and Sector Lane. It was always a relief to find those information controls because it confirmed that the last climb was not in vain and that one was still on route: who would dare try to find a shortcut around a hill: it would be reckless to go a-wandering in deepest Wessex

Shawn put a lot of time and thought into the extras which were unique to his events. Route sheets arrived trimmed and laminated. He sent a handy 'kit list' to remind riders that their saddlebag needed to contain the randonneur's survival equipment: map, batteries, bonk rations and so on. Dave and I still quote the final items on Shawn's list as a mantra when we prepare for any long haul trip: '…sun cream, bum cream, velo'.

Taking advantage of Jean's craft skills the medals for the events also went beyond the usual with hand-made badges for each ride: a hard-boiled egg in a cup with a Wessex bobble hat, luminous pink pig for Porkers, a yellow Brimstone winged cyclist. Crackpot starters were rewarded with 'Milly', a knitted jester in Wessex colours complete with scarf and bells on his hat. Some riders pinned Milly onto their saddlebags to ensure a bit of company in the dark. Personally I thought I would hear my own bells soon enough and didn't want to risk soggy stuffing.

Abandoning these rides earned a certificate of sympathy for a brave attempt with the motto 'Audaxia certe laus merit' (Boldness at least deserves praise).

I have not ridden a Wessex event since Crackpot '98. As I rode into those sunsets I wondered if Milly would be my audax grand finale. I was flying out to Sri Lanka in a couple of months to whatever futures that held. It has taken me until 2005 to re-visit Dorset and Devon lanes but I have recognised many place names and crossroads from Shawn's rides and felt nostalgic. As my 'veteran' status fast approaches I am becoming older and wiser so reflect that perhaps some of those Wessex adventures were just a shade fool-hardy. Despite, or maybe because of the audacious flavour of the events, I treasure the memories and wear my fading Wessex Randonnees cap with pride.

Cheers Shawn, see you up the road.
NOTE: Shawn has, of course, since restarted the Wessex Series