Towards the latter part of 2014 I started thinking about the next Paris-Brest-Paris, and how to ring the changes. To explain: I had ridden two 90hrs, one on gears and one on fixed, an 84hr and an 80hr, both on gears. I didn't particularly want to repeat myself. So the logical thing would be to ride an 84 on fixed, except that I hadn't ridden anything serious on fixed-wheel for several years, and I was conscious of advancing decrepitude.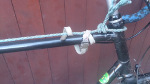 My fixed-wheel bike was ancient , much altered and bodged, in fact the same bike (except for the forks) that I had ridden in 1999. It was old even then. I started looking for a replacement and eventually found someone who could build a titanium frame with forward-facing dropouts as befits a road bike.
Meanwhile I rode a couple of 200s on the ancient bike and, with panniers attached, toured to the AUK Reunion and back. The weight of the luggage helped me to a respectable 150 rpm cadence on some long downhills. That encouraged me to think I still had the knack. The bike seemed quite flexible, but it only had to last until January.
Not that the frame was on time (are they ever?). In February, pootling around Devon lanes, I stood on the pedals to crest a hill and there was a loud crack. I wobbled into a field gateway. The top-tube had cracked in two. A piece of rope lying in the road caught my eye and I tied it round the head-tube and back to the seat-pin to hold the bike together. A toestrap stabilised things a bit more. Then I cautiously rode the 15 miles home.
A rummage in the garage uncovered another old frame. I gave it a quick lick of Hammerite and assembled all the fixed components on to it. Riding the Mad March 200 I had to walk some of one hill. This fixed thing might just be a silly idea. I rode my first 300 on gears, not feeling particularly fit at all. Still, it seemed to loosen my legs, because a couple of weeks later I rode a hilly 300, the Turf'n'Surf, on the fixed without suffering too much. However, this was on the new frame, which had arrived at the end of March and proved a revelation, turning my feeble power-output into more speed than seemed feasible.
Encouraged, I used the new bike for a Brevet Cymru 400, a Flatlands 600 (the first part ridden at knee-trembling speed owing to an optimistic B&B booking) , and a Buzzard 600 for luck completed my BRM preparations. The Buzzard was a real graunch, I had to turn the wheel round from 67 inch to 63 part-way round. I also rode the Mersey Roads 24 (with gears) which won me another age-group medal despite a disappointing distance (I'm very grateful to George and Elaine for supporting me there).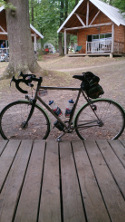 In the meantime I had booked a ferry, hired a self-catering cabin in Versailles and, most importantly, entered the French event.
I decided on my usual gentle build-up to the 2015 Paris-Brest-Paris, got a train to Southampton, and then rode to Portsmouth for the night ferry across to Le Havre.
I was surprised from behind (yes, really) by the Hampshire contingent as I showed my passport. The antics of Paul and the others (who were taking the other ferry, to Caen) had the man in the ticket booth nearly helpless with laughter. Aidan met me as I rode to the first waiting point – it was early, so bike parked we went for a coffee.
Nigel and Drew, and Ron and Dai on tandem, were waiting when I returned, with Drew's latest old machine. It had an evocative patina of rust and worn paint. He was particularly proud of the ancient saddle, pointing out the ridges and seams of future discomfort.
None of the others were around as I left the boat the following morning. I tried a new route out of Le Havre, parallel with the main road through the town to join the old road alongside the Seine. It worked well apart from the unbuilt bridge over the railway. A footbridge saved the day. The bike felt heavy with a crammed Barley saddlebag and a similarly-sized stuffsac strapped to it. As the bac over the river to Quillebeuf docked, a rainstorm came, hammering on the cobbles as I found shelter until it passed. A little further on I found a bar with a bakery attached and stopped for coffee and croissants, then meandered on towards Evreux and a budget hotel.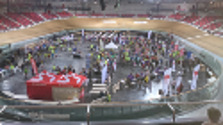 The next morning I forsook my Garmin track to join the outbound PBP route to St Quentin. There were lots of small groups of cyclists on the road, conversing in various languages.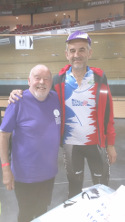 Richard and Carla were already at the cabin we had rented. There was a babel-buzz of German, Australian, and Yorkshire from the surrounding cabins. The Dixons arrived later, having mislaid their tandem – this would keep us all (but particularly the Dixons) on tenterhooks until late Saturday night when it finally arrived in a small, grubby Peugeot van. ACP had been understanding and checked them through without their bike, so all they had to do was assemble it and wait for the start.
Anne was settled in her campervan and carefully preparing for her fourth P-B-P. We found food in a little Malaysian cafe-restaurant where the owner weighed and priced each ingredient as it was served.
Saturday morning we rode to the velodrome, and I watched the others disappear into the milling crowds below. That barriers were being constantly readjusted to cope with the ever lengthening queue.
My check-in was on Sunday and it was much less crowded. It was lovely to meet Noel there, manning the check-in and still as ebullient as ever. Richard Leon was looking forward to his eleventh start, and Jim Hopper his ninth.
Sunday evening I watched the 90hr riders starting in seemingly endless streams. I was embarrassed to have forgotten my 'Riding after Dave Lewis' badge, but Anne gave me another before she followed Jim and Tony into the start area. Steve, still chasing Tommy Godwin, was in the last wave, unflustered by the general excitement. Heather interviewed him before his start.
It was still dark when I made my way to the 84hr start. The bike was much livelier without the extra luggage, but my knees were persistently aching, which worried me. Someone stopped suddenly in the start-pen and I came down quite slowly on top of another rider. Embarrassing, but no damage.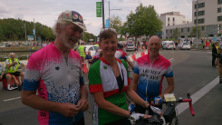 Then we were off through urban streets behind the neutral car. There were regular clatters of lights and stuff hitting the road, and one or two riders behind me hit the low centre kerbs.
Dawn came and my knees still hurt. I was climbing surprisingly fast compared with geared groups, but they would catch me on steeper descents. Then, after about five hours on the road, my knees gave in and stopped hurting – as if to say, okay, you win, we'll stop complaining.

I was feeding on coffee and sandwiches from the outside stalls to save queuing for food, as well as using some of the bars and impromptu food stops on the route.
At some point I came across Dai and Ron, visibly upset that mechanical failure had scotched their ride. Elsewhere Rob had failed to coax his Pashley to enough speed and was out of time to sleep.
Was it coming out of Fougeres when raindrops the size of walnuts splattered around, giving nearly enough warning to take shelter? A multi-national group of cyclists watched as the road, the cars, and the occasional foolhardy cyclist disappeared in a blur of storm and spray.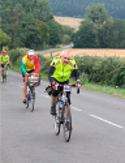 I slept for four hours at Loudeac in an enormous hanger carpeted with truckle beds. Damon interviewed me at Carhaix. On the video I appeared not to have much of a clue where I actually was.
It was bright sunshine over the Roc Trevezel. Enormous Italian campervans stood in clusters on the verges. On the descent I shouted at the Dixons heading upwards and Emma looked blankly at me. Shortly after that Idai, standing absurdly tall amongst conventional bikes, hailed me across the carriageway. His was an epic ride on a barkingly eccentric machine. Then there was a shout from the verge. Anne was watching the world go by. I stopped and we saw the Hedley-Swallow tandem trike heading east, Judith urging us to stop slacking. We parted company in opposite directions and I continued to Brest.
It was a seemingly endless urban climb to the control, just awkwardly on the cusp of seated or standing effort on a 67 inch gear. But I was halfway and feeling fit.
I slept at Loudeac again on the return. A touch of saddle-discomfort encouraged me to take descents more slowly, so I was using the brakes a little more. I slept again at Mortagne, on the floor this time, and again somewhere in a sunny field. I probably got around 12hrs sleep in total.
I think it was either the food or the water at Villaines that poisoned me. Fortunately it manifested as no more than gradually increasingly discomfort as I weaved between increasing numbers of very tired meandering 90hr riders.
The rain started somewhere around Dreux and got steadily heavier. The landscape offered little protection. I encountered Adam, also on fixed, around this time, and he finished somewhat ahead of me.
For the last section I switched on the Garmin to be sure I kept to the route through urban streets. The sun came out for just long enough to steam off most of the damp and then I was on the track around the park, dodging puddles and the occasional dog-walker. Small knots of spectators clapped as I entered the finish, bumped over the tracking sensors and stopped to hand back the tracking widget. It was a properly subdued end to 80hrs of riding.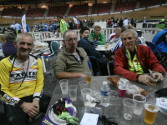 It seemed like a long walk to finally hand in my brevet card. Drew, John, Jim, Dave, Tony and others were seated at a table full of half-empty glasses and ride detritus. I got a beer. Ivo was asleep sagging sideways on a chair. I woke him to say hello; he bleared at me and went back to sleep. After a while the Villaines discomfort made itself felt and I left to return to the cabin. Richard and the Dixons were already there, quietly meditating on the event. Chris, Anne and I met later for a pizza, after which point my guts finally exploded.
Friday morning everyone was packing. Joth and Emma were dismantling the tandem for a car journey to the ferry. Richard and Carla were packing their van. I had an extra night booked before my return journey, so Anne and I wandered around the Versailles gardens, looking at the Anish Kapoor constructions and being treated to an explanation of the higher significance of one piece delivered in a manner that only the French can do with a straight face. Heather and Damon were there, having been told-off for leaving their bikes on the grass. We rowed the Grand Canal ( a cruciform lake) as an antidote to all that pedalling. And finally there was the unexpected pleasure of discovering a little bistro in a back-street which served exquisite food under an awning as life passed by.
It always surprises me how stuff takes up more room the second time you come to pack it. It was a struggle to get everything back on the bike for the journey home, and boy did it feel heavy. I made my goodbyes, handed back the keys to the cabin, and set off at a gentle pace for Evreux. My guts were still complaining and so progress was slow. I found the same hotel and took a room. The restaurant was closed for the weekend (it had been closed for 'la vacance' first time) but the receptionist, whilst apologising that she wasn't a chef, made me a fine ham salad and produced a cheese board.
The second day I was feeling better. Approaching Le Havre centre a cyclist hailed me from across the street. He'd seen my frame number and his bike still sported his. He asked after Drew, who had run out of time before Brest. In my tiredness I failed to get his name.
Which just left the ferry crossing, the rain-soaked ride to a hotel in Fareham (and the puzzled look when I asked where I could put my bike), the train from Southampton, and finally being reunited with Elly at Dorchester. Even at that point, Paris-Brest-Paris seemed like a long time ago.