AUK National 400
Event report of the 2013 event in the Southwest.
Jamie's photos of the event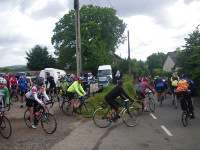 We had 108 entries in total. The weather forecasts during the week before were not inspiring, but nonetheless 88 turned up at the start. Chuffy and Baggy served breakfast , aided by Jamie, Peter, and others.
The first shower began just as the riders left. Late starter, John, arrived and left in the rain.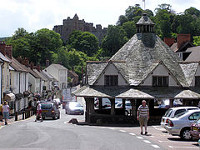 At Carhampton, Pam and her Minehead crew served tea and cakes to damp cyclists.
Although there were some very heavy showers around, most riders managed to miss the worst. They did report extremely wet roads where downpours had just passed.
A strong tailwind blew the cyclists over the Brendon Hills towards Taunton. Some had difficulty getting through the town because of the Taunton Somerfest.
The tailwind meant riders arrived in a steady stream at Hadspen, the second control, early enough to induce near-panic in the controllers. Lara and Simon aided by Peter, Tony, Alan and Ian, coped heroically with the rush, despite the food still being in preparation.
At Peasedown St John, Big Dave and his teapot provided refreshments before the Two Tunnels section.
The tunnels, with background music, were a lowlit highlight for many of the riders.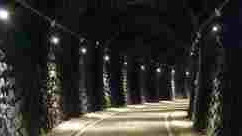 Tony and Kathy, with John and others, dispensed tlc and sustenance at Bulwark Community Hall (well-known to riders of the Brevet Cymru 400 and Bryan Chapman 600).

At Kingswood, Jonathan, with family and friends, prepared tiring cyclists for the southbound section back to Hadspen. The hilly bit, through Colerne, was probably the least popular part of the route, being both steep and narrow.
The team at Hadspen were in full swing for the return. The first riders turned up at around midnight, and a steady stream followed all the way to the closing time. The last rider opted for half an hour's sleep as the controllers packed up.
There was an unfortunate routesheet error on the last laney bit towards the finish, which delayed a few riders.
The first finishers arrived in the early hours; the last with seven minutes to spare. The rain held off until close to midday, so nearly all had a dry finish.
79 riders finished. Congratulations to all of them.
AUK National 400 helpers: Role of Honour
| | | | | | |
| --- | --- | --- | --- | --- | --- |
| The start & finish | Carhampton | Hadspen | Peasedown St John | Bulwark | Kingswood |
| Rob Simmonds | Pam Almond | Lara Day | Dave Atkinson | Tony Pember | Jonathan Duckworth |
| Gill Simmonds | Louise Crossman | Simon Proven | Iwein Dekoninck | Kathy Pember | Matt Zorn |
| Jill Day | Steve Crossman | Alan Vance | Tim Beadle | Maggie Hayes | Jo Fletcher |
| Pete Thompson | Dave Maynard | Tony Hull | Nigel Shoosmith | John Hayes | James Gumbrell |
| Andy Gates | Alison Webber | Pete Thompson |   | Wendy Hodges | Caroline Duckworth |
| Graham Brodie | Kevin Poole | Ian Hennessey |   | Graham Hodges | Rosie Duckworth |
| Kate Hattersley | John Needham | Google the Cockapoo |   | Kirsty McGaul | Paddie the hungry Labrador |
| Jamie Andrews |   |   |   | Marcus Mumford |   |
|   |   |   |   |   |   |